4.1.2014 Praxair gets $1 million state grant for liquid hydrogen production
(view article)
4.1.2014 Hydrogen cars: Ready for the roads?
(view article)
4.2.2014 Arval trials Hyundai ix35 hydrogen fuel cell vehicle
(view article)
4.2.2014 ENERGY EFFICIENCY AND RENEWABLE ENERGY SCIENCE AND TECHNOLOGY POLICY FELLOWSHIPS
(view article)
4.3.2014 SRS makes breakthrough in hydrogen batteries
(view article)
4.7.2014 Toyota's North American chief ''bullish'' on fuel cell cars
(view article)
4.7.2014 Check Out the Only Hydrogen Fuel Cell Car in Colorado
(view article)
4.8.2014 Tiny Microbial Fuel Cell Runs On Spit
(view article)
4.9.2014 Fuel Cells Have Been a Long Time Coming…. and They're Still Coming
(view article)
4.9.2014 Energy Department Invests More than $3 Million to Advance U.S. Competitiveness in the Fuel Cell Market
(view article)
4.10.2014 Acta unveils new hydrogen fuel cell product
(view article)
4.11.2014 Fuel Cell Cars and the Shale Revolution
(view article)
4.11.2014 Hydrogen fuel cells take the spotlight in Pakistan
(view article)
4.14.2014 HFCV (Hydrogen Fuel-Cell Vehicles) Hot Overnight: SAIC Wants to Terminate Electronic Car
(view article)
4.14.2014 Hydrogen-fueled Toyota FCV sedan to enter market on limited basis for 2015 model year
(view article)
---
April 1, 2014
(view original article)

Praxair gets $1 million state grant for liquid hydrogen production
Praxair Inc. is getting a $1 million grant from New York State for an expansion project that will allow the company's plant in Niagara Falls to increase its production of liquid hydrogen by 50 percent, state officials said Thursday.
The project is not expected to create any new jobs at the Royal Avenue plant, but company officials said the expansion in production capacity will help Praxair meet the growing demand for hydrogen throughout the Northeast and the Midwest, as well as in southeastern Canada.
"This investment further diversifies our sources of hydrogen and results in distribution savings," said Jeff Barnhard, vice president of Praxair's industrial gases business in the U.S. East region.
Two nearby chemical facilities currently sell Praxair the hydrogen gas they produce as a byproduct of their operations. The Praxair facility then removes impurities and liquefies it through an energy-intensive process that cools and compresses the gas.
The liquid hydrogen then is delivered by customized trucks to customers that use it in the manufacturing of products such as metals, lubricants, glass, liquid fuels, solar technology, chemicals and food products.
The state grant will help pay for the construction of a steam methane reformer that will increase the supply of hydrogen to the plant, which also receives low-cost hydropower from the nearby Niagara Power Project. The expansion is expected to be completed next year.
"Praxair's commitment to the region is to be commended, and it is a great example of how low-cost, locally produced hydropower can help our businesses and our economy grow," said State Sen. George Maziarz, R-Newfane.
---
April 1, 2014
(view original article)

Hydrogen cars: Ready for the roads?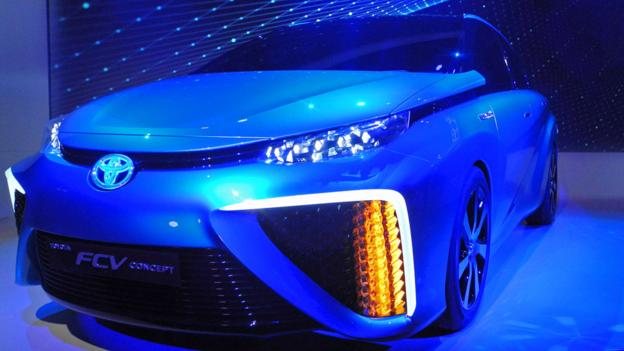 Chris Hostetter, group vice president of strategic planning for Toyota Motor Sales, believes the automotive industry will change more in the next 10 years than the last 100 years. A century ago there was great competition among the different fuels and manufacturing. Today we are looking at non-carbon fuels, and non-combustion engines.
We are beginning to see the early stages of what Hostetter call the "hydrogen economy". The technology is established: hydrogen combined with oxygen in fuel cells creates the electricity that drives the car itself, with the output being water vapour. But one of biggest challenges is getting the infrastructure started – to make sure the fuel is available when the cars are available. It's very difficult for the industry to move away from petrol to a new fuel format, and the investment in fuel is normally done by the fuel supplier.
There is a diversity of fuels out there, but in terms of clean, sustainable fuels Hostetter says there are only two key technologies: electric cars and hydrogen cars. The former is good for shorter, urban drives, while he thinks the latter is better for larger vehicles and over longer distances.
With most technologies it takes about 10-20 years to get them to their peak. Five years ago hydrogen vehicles were over $1 million dollars, and still in the research lab. Hostetter says they have made great improvements since then. For instance, the catalyst has less platinum, vehicles are more durable and can last for 10 years. The fuel cell is ready for market, he says.
So, Hostetter is confident that this is the car of the future. On the streets of California in 2050, he says we will only see either electric or fuel cell vehicles powering the fleet.
Chris Hostetter spoke to BBC Future at the Aspen Ideas Festival.
---
April 2, 2014
(view original article)

Arval trials Hyundai ix35 hydrogen fuel cell vehicle
Arval's consultancy team has trialled the Hyundai ix35 hydrogen fuel cell vehicle to gain first-hand experience of this new technology and put it through its paces.
The team used the ix35 as part of Arval's new vehicle technology trials which have been running for around 18 months.
By working closely with the manufacturers they have been able to put the latest models through a standard test route to better understand 'real life' performance, benefits and practicalities.
This information is then shared with Arval customers as part of the fleet decision-making process.
The ix35 is the first hydrogen fuel cell vehicle to form part of the Arval trials. With the ix35, Hyundai aims to match or exceed the performance delivered by more traditional combustion engine vehicles. It delivers a top speed of 99mph and 0-to-62mph in 12.5 seconds.
To better understand the practicalities that this technology provides, Arval also took the opportunity to refuel the ix35. This provides a significant point of difference from fully electric vehicles as it takes only three minutes to fully fuel, delivering a maximum operating range of 369 miles. In comparison, electric vehicles tend to take several hours to charge and deliver a range of less than 100 miles.
Elliott Woodhead director of partnerships and SME at Arval said:"Having driven the ix35 the biggest compliment I can pay Hyundai is to say that the vehicle drove as well as any other vehicle in its class and it was not obvious that this was a different drive train. Hyundai is very clearly at the forefornt of developments in fuel cell technology and this shows clearly through the ix35.
"It's crucial that we test the latest vehicles entering the market. This first-hand insight allows us to provide the best and most practical advice to meet the needs of our customers. We are grateful to Hyundai for giving us early access to this exciting new technology."
Hyundai is committed to bringing the ix35 Fuel Cell vehicle to series production ahead of 2015.
---
April 2, 2014
(view original article)

ENERGY EFFICIENCY AND RENEWABLE ENERGY SCIENCE AND TECHNOLOGY POLICY FELLOWSHIPS
PROGRAM DESCRIPTION
The Energy Efficiency and Renewable Energy (EERE) Science and Technology Policy (STP) Fellowships serve as a next step in the educational and professional development of scientists and engineers interested in energy efficiency and renewable energy policy. The EERE STP Fellowships provide an opportunity for highly talented scientists and engineers to participate in policy-related projects at DOE's Office of Energy Efficiency and Renewable Energy in Washington, D.C. EERE STP Fellows apply the expertise gained from their education and history of conducting research to new and ongoing EERE initiatives. As a result of their participation on this program, Fellows are expected to:
Gain deep insight into the federal government's role in the creation and implementation of policies that affect energy technology development.
Contribute to the implementation of energy policies by applying their scientific and technical expertise to the development of solutions for problems in areas of energy efficiency and renewable energy.
Continue their education and involvement in areas that support the EERE mission either in a technical or policy-related role.
Introduce policy-related knowledge and interest into research facilities supporting the EERE mission.
Three levels of fellowships; Senior Fellows, Fellows and Junior Fellows, provide opportunities to a range of experience levels from recent graduates to experienced scientists and engineers to participate in the program. All Fellows will be provided the opportunity to participate in policy-related projects and be mentored by senior EERE staff.
The EERE STP Fellowships are administered by the Oak Ridge Institute for Science and Education (ORISE) in collaboration with EERE. ORISE is responsible for the implementation of the fellowship program, processing applications, the review and notification processes, and management of payments to Fellows.
Click here for more detailed information.
---
April 3, 2014
(view original article)

SRS makes breakthrough in hydrogen batteries
Researchers at Savannah River National Laboratory in Aiken are developing new fuel production methods that will make hydrogen batteries cheaper – a super-battery technology that could keep portable electronic and communications devices charged as much as four times longer than traditional batteries.
In a research project funded by the U.S. Department of Energy, the Aiken County lab is researching new ways of producing aluminum hydride-powered hydrogen batteries that could continuously generate electricity as long as it they are provided with the futuristic fuel. It's a technology that could revolutionize personal electronics.
In the past, the new cells were considered strictly for military use. Now, researchers are eying ways to make the power available to the public.
"There's increased interest in the commercial potential," said Ted Motyka, director of the hydrogen program at the laboratory.
But work is still needed to lower the cost of aluminum hydride – called alane – and improve the durability of fuel cells. Scientists at the lab, in partnership with Stanford University spinoff company Ardica Technologies Inc., are tackling ways to make the batteries more affordable and eventually available to the public.
"These materials have some of the highest hydrogen storage densities and show great potential for many near-term applications, but still require lower cost and more efficient regeneration and recycling methods to make them practical," laboratory researcher Ragaiy Zidan said in a press release. "That is where SRNL and Ardica Technologies are focusing their efforts."
He said aluminum hydride can store twice the hydrogen in the same volume as liquid hydrogen, and can do so at a very high capacity. "About the only downside for alane is its availability and high cost to produce," Zidan said.
Lab-scale results have been very successful and researchers are ready to ramp up efforts that could lead to a new line of portable devices that might only need to be charged once a week instead of once a day, lab officials said.
In addition to cellphones, laptops and other personal electronic devices, the technology could also be used in commercial vehicles and military applications.
The fuel cartridges are small, and could be swapped and recycled, providing continuous power. "This research and innovation will have an immediate and direct impact on our nation's energy needs," laboratory director Terry Michalske said. "Cooperative agreements with companies such as Ardica Technologies put the results of SRNL research into the hands of the consumer and the user, and encourage novel solutions to world-wide problems."
---
April 7, 2014
(view original article)

Toyota's North American chief ''bullish'' on fuel cell cars
Preparing to sell Camry-sized hydrogen sedans next year, Toyota Motor Corp's North American chief executive, Jim Lentz, said he was ''bullish'' about advances in the company's fuel cell system and wanted more US supply of the cars built in Japan, Bloomberg reports.
Toyota, the world's largest seller of hybrid-electric Prius, is to sell the yet to be named four-door model in California in 2015,  Japan and Europe. The performance, packaging and other attributes of the car would generate demand, Lentz said yesterday.
''After we've seen the product, understand its range, its driving dynamics, its refueling, we're a lot more bullish than Japan -- probably about five-fold more bullish,'' Lentz said in an interview at The Wall Street Journal's ECO:nomics conference in Santa Barbara, California. ''It's just a question of how many can be produced now.''
The new hydrogen cars to be introduced by Toyota, Hyundai Motor Co and Honda Motor Co are due this year and next. According to the companies the vehicles would match the zero-emissions of battery-powered vehicles and offer greater driving range and faster refueling.
California, which has the most stringent US emissions rules has drawn up plans for a statewide network of hydrogen fuel stations, and is expected to be the primary battleground for the vehicles.
The state with its massive market and tough clean-air rules, has emerged as the laboratory for new low-emission technologies. Meanwhile,  the Prius has gained the status of an unofficial state car even as plug-in electrics and hybrids like the Nissan Leaf and Chevrolet Volt are being increasingly seen in the state's sprawling urban areas.
Unlike battery-powered models like the Tesla S, which store electricity in their battery, fuel cell cars generate it on board through a chemical reaction between hydrogen and water.
Plug-in and hybrid electrics are not truly zero-emission, as the electricity they use to charge their batteries is generated in a power plant fuelled by coal or nuclear energy in most cases. Also hybrids and some plug-ins come with back-up gas engines which are not very different from the gas engines in traditional cars.
---
April 7, 2014
(view original article)

Check Out the Only Hydrogen Fuel Cell Car in Colorado
Drivers in Colorado are always looking for new technology when it comes to a greener travel option and saving the environment. That's where the hydrogen fuel cell car comes in.
This car doesn't have your average fuel-saving technology or the look– this is a fancy Mercedes.
"This is a car that runs on hydrogen and it hydrogen and oxygen from the atmosphere, combines them and makes electricity and the only output is water," said CEO of Montreux Energy Andrew Bermingham.
The car is designed to work with a combination of electric and hydrogen.
 "It looks complicated but it is the motor underneath the backseat is the hydrogen and underneath the front is the fuel cell and it combines the hydrogen and oxygen to make electricity," said Bermingham. "Instead of storing all that energy as electricity, this makes electricity on board."
Instead of gas, this car gets filled up with water.
"The neat thing about this is it looks so much like cars we already have today. We don't want to have science experiments driving up and down the road. We want to have cars that everybody wants to buy. If you can fill up in two to three minutes and the car can go 300-400 miles and the only tail pipe emission is water, why wouldn't you want to have this type of car?" asked Bermingham.
You can see that car at the Denver Auto Show at the Colorado Convention Center starting on Wednesday.
"That car along with 30 others will be at the Denver Auto Show which dates back to 1902. The auto show has a long history in Denver as being the largest consumer auto show between Chicago and Los Angeles," said Colorado Automobile Dealers Association President Tim Jackson.
This year the Denver Auto Show will feature many cars with energy-saving technology.
 "All kinds of new technology, the Clean Green Driving Machines, plugin hybrids and regular and compressed natural gas and clean diesel and the hydrogen fuel cell Mercedes," said Jackson.
Visitors to the Denver Auto Show can find 550 cars and see all the latest alternative fuel technology at the Colorado Convention Center in downtown Denver starting Wednesday and continuing through Sunday, April 13. Adults are $10, children ages 6-12 are $5 and children under 6 are free.
---
April 8, 2014
(view original article)

Tiny Microbial Fuel Cell Runs On Spit
A tiny saliva-powered microbial fuel cell
Researchers have made a fingernail-sized microbial fuel cell that runs on saliva. The cell generates 1 microwatt of power, enough to power lab-on-a-chip diagnostic devices in rural settings or battlefields, the researchers say.
Conventional microbial fuel cells contain a cathode and anode chamber separated by a proton-exchange membrane. At the anode, anaerobic bacteria break down organic matter from liquids, releasing carbon dioxide, electrons and protons. The electrons flow to the cathode through an external circuit while the protons go through the membrane. Employed at factories or wastewater treatment plants, microbial fuel cells could produce clean water and electricity while significantly cutting down sludge produced.
The new cells are nothing like their liter-size cousins, though. These 25-microliter devices have a radically different design featuring unique, carefully chosen electrodes and fuel sources, says Muhammad Hussain, a professor of electrical engineering at the King Abdullah University of Science and Technology (KAUST) in Saudi Arabia. Hussain and his colleagues at KAUST and Penn State University published their results recently in the journal Nature Asia Materials.
Conventional microbial fuel cells contain carbon-based anodes and cathodes made of carbon brushes or carbon cloth. The essential requirement for the electrodes is that they be conductive and have a high surface-to-volume ratio so that most of the bacteria have access to the waste material.
Graphene meets both of those conditions, so the KAUST researchers used that for their anode. They went with an air cathode, which is commonly used in large-scale microbial fuel cells. Most importantly, the researchers got rid of the expensive membrane. "We figured you don't need the membrane, you just need to bring anode and cathode as close as possible, which becomes much easier on the micro scale," says Hussain. "At the same time, current generation depends on the internal resistance of the whole fuel cell. Without the membrane you reduce resistance."
The team starts with a 1-by-1-centimeter sheet of graphene film. They place a rubber spacer with the same dimensions on top and cut a 5-by-5-millimeter hole in the center of the spacer. The hole acts as the anode chamber. The researchers loaded the device with bacteria from wastewater and then added saliva via syringe tips inserted into both sides of the rubber. The device can easily be built on plastic, Hussain points out.
Acetate is a common fuel source for microbial fuel cells. But Hussain and his colleagues wanted an easily accessible fuel, so they tested saliva. "Soldiers in a battlefield don't have time to put chemicals in fuel cells to make it operational," he says. "People in rural areas might not have access to specialty chemicals. So the easiest thing is saliva. Saliva's organic content is much higher than known chemicals like acetate, making it a good fuel source."
The device generates higher current densities than other micron-sized microbial fuel cells made so far. The graphene anode also generates 40 times as much power as its carbon cloth counterpart.
The researchers are now exploring ways to increase their device's power output by making more efficient electrodes and stringing multiple cells in series.
---
April 9, 2014
(view original article)

Fuel Cells Have Been a Long Time Coming…. and They're Still Coming
Jeffrey Immelt, chairman and CEO of General Electric Co. (GE), speaks at the Bloomberg Link Energy 2020 forum in Washington, D.C., on Feb. 24, 2014.

General Electric Chief Executive Officer Jeffrey Immelt said his company has been developing fuel cell power for 30 years.
It's actually been more than 50. General Electric started designing fuel cells for spaceflight in 1962.
Fuel cell technology is on a slow boil. The idea itself goes back to the middle of the 19th century, and only in the last couple of years have technology and commerce begun to each other in a meaningful way.
The hydrogen-powered cars promised us a decade ago by President George W. Bush and his predecessors are inching closer. But real progress is coming in less-sexy endeavors -- forklifts and back-up power, to name two.
Even as companies are finding some uses for the technology, the U.S. Energy Department is continuing to invest in basic research. The agency plans to award $30 million in research grants for systems designed to power homes and businesses by September, said Cheryl Martin, acting director of the Advance Research Projects Agency -- Energy. She and Immelt spoke at the Bloomberg New Energy Finance conference in New York today.
The hope is that more research will lead to cheaper, more efficient and more dependable power.
"We're hoping to get some really innovative applications," Martin said in an interview. "We want to push the boundaries of fuel cell technology to improve grid reliability and resiliency."
---
April 9, 2014
(view original article)

Energy Department Invests More than $3 Million to Advance U.S. Competitiveness in the Fuel Cell Market
In support of President Obama's all-of-the-above energy strategy, the Energy Department today awarded more than $3 million to Connecticut-based FuelCell Energy for a project that could increase U.S. competitiveness in the fuel cell market and give businesses more affordable, cleaner power options.  This project will enhance the performance, increase the lifespan, and decrease the cost of stationary fuel cells being used for distributed generation and combined heat and power applications.
With support from the Energy Department, the private sector and the department's national laboratories have significantly reduced costs and improved performance in fuel cell and hydrogen technologies.  Building on this progress, the project awarded today will focus on developing an innovative carbonate fuel cell electrolyte matrix, which promises enhanced cell output and the doubling of service life, which will reduce the costs and enhance the market for efficient, clean fuel cell power. In addition, the project will look for more opportunities to reduce costs through greater production by incorporating manufacturing process improvements.
Find additional information on the Energy Department's broader efforts to develop affordable, efficient fuel cell and hydrogen technologies on EERE's Hydrogen and Fuel Cells page.
---
April 10, 2014
(view original article)

Acta unveils new hydrogen fuel cell product
Acta launches new fuel cell product at trade fair in Hannover, Germany

Hydrogen Fuel - New ProductActa, a developer of fuel cells and electrolyzers, has launched a new hydrogen battery product, called the Acta Power Cube. The product was launched at a trade fair in Hannover, Germany, where its capabilities were showcases. The new product was developed in collaboration with ReliOn, a clean technology firm that was recently purchased by Ballard Power Systems. The Act Power Cube will serve as a backup energy system for various purposes in North America and other markets.
Fuel cells as backup energy systems are becoming more popular in various sectors

Hydrogen fuel cells have become quite popular when it comes to backup energy. The telecommunications industry, in particular, has begun using fuel cells as backup energy systems for network towers being built in remote locations. These fuel cells ensure that these network towers are able to continue operating even when their access to an existing energy grid is cut off. A growing number of data centers are also turning to fuel cells as both backup and primary energy systems.
Power Cube can produce hydrogen from tap water and air condensation

The Act Power Cube is expected to be marketed to the telecommunications, transportation, security, and government sectors. The Cube has an energy output of 200 to 1,100 watts and can generate the hydrogen it uses to produce electrical power from tap water, rain water, and air condensation. Acta believes that its new product will accelerate the small-scale adoption of fuel cells in various sectors. Businesses that consume a particularly large amount of electrical power are expected to be highly interested in new fuel cell products.
Negative stigma surrounding fuel cells is beginning to evaporate

Hydrogen fuel cells have long been criticized for their expensive nature and relatively low efficiency. Acta, as well as other fuel cell developers, has been working to dispel this stigma by producing affordable fuel cells that are much more efficient than their predecessors. As more businesses embrace fuel cells, the stigma that had once kept these energy systems from seeing widespread adoption is beginning to disappear.
---
April 11, 2014
(view original article)

Fuel Cell Cars and the Shale Revolution
As I was working off my reading backlog, I ran across an article in the Washington Post's "Capitol Business" edition on "Are We Ready for Hydrogen Cars?" Published in conjunction with this year's DC Auto Show, which I missed, it mentioned a new fuel cell model from Hyundai for the California market, while providing some background on a technology that looked much more like the next big thing a decade ago than it does to many, now.
Any evaluation of the prospects for fuel cell cars to become practical requires discussing the cost of fuel cell components, the infrastructure to deliver H2 to vehicles, and the suitability of various options for storing it safely onboard. However, I was surprised the article failed to mention a new factor that might do more than anything else to improve the odds for this technology: shale gas.
In the mid-1990s, when fuel cell vehicles (FCVs) first appeared on my radar, they seemed like an ideal alternative to the gasoline engines in most passenger cars, offering zero tailpipe emissions and very low lifecycle, or well-to-wheels emissions of all types. Onboard hydrogen (H2) storage, whether as a gas, liquid or chemically adsorbed in another material, enabled higher energy density than then-current batteries, giving an FCV significantly greater potential range than a comparable electric vehicle (EV). And like electric cars, they also provided a useful pathway for bringing energy from a wide variety of sources into the transportation market, which was and still is dominated by petroleum products. Cost and technology readiness were big barriers, along with non-existent retail H2 infrastructure.
Energy remains the key to FCVs, because H2 is an energy carrier, not an energy source. Standing up a competitive fleet of FCV models thus requires plentiful and preferably low-cost energy sources from which sufficient H2 can be produced and distributed. As recently as just a few years ago, this looked like a very tough challenge.
Most H2 used industrially is generated by chemically reforming natural gas. Until recently, US gas production was in decline, resulting in high and volatile gas prices. Generating H2 from electricity looked even worse, because power prices were climbing and seemed likely to increase steadily in the future, as natural gas prices rose and higher-cost renewables were phased in. And with US electricity generation dominated by coal, H2 from electrolysis–cracking water into its components using electricity–looked like a recipe for merely shifting, rather than reducing vehicle emissions.
Like many other aspects of the North American energy scene, this picture has changed radically in the last several years, mainly due to the shale gas revolution. We now have abundant gas at reasonable prices, and this is holding down electricity costs. (Renewables are also reducing wholesale electricity prices, though not necessarily the full cost of electricity, because they still depend on subsidies and mandates that don't show up in wholesale prices.)
These developments create the potential for cheaper H2 sources than fuel cell developers expected. Moreover, US natural gas prices have diverged from oil prices and are now at a significant discount to oil. Wellhead gas today trades for the equivalent of $25 per barrel, compared to oil at over $100. Gas-derived H2 could end up with advantages in both cost and end-use efficiency over gasoline.
Of course the availability of natural gas isn't the only thing that has changed for fuel cells in the last decade, from a competitive perspective. Automakers such as GM, Toyota and Honda have introduced various new fuel cell models. The most recent one I had an opportunity to drive was a fuel-cell version of the Chevrolet Equinox compact SUV in late 2007. In the meantime, though, EV models are proliferating.
Unfortunately for fuel cell developers, H2 distribution has had a somewhat checkered history, as the Washington Post article notes. Providing fuel for FCVs is a much more involved and expensive undertaking than setting up a network of recharging points for EVs. How many H2 stations will suppliers build before FCVs appear in large numbers, and how many FCVs can carmakers sell before sufficient infrastructure is available to serve them? California still has just a handful of public H2 stations, after years of development.
Energy trade-offs dominate the competition between FCVs and EVs. The former have longer ranges between refueling than moderately-priced EVs–the Tesla Model S has excellent range–and can be refueled in much less time than even high-voltage EV recharging can achieve. However, FCVs are much more dependent on refueling infrastructure than EVs, which can recharge at home. And thanks to robust federal support for battery R&D and production, including from the 2009 stimulus, along with extremely generous federal and state EV tax credits, EVs have gained significant awareness and initial market penetration since the current administration took office and scaled back federal support for fuel cells.
EVs may have an edge over fuel cell cars, for now, but EV sales remain disappointing and they must compete with more convenient, mainstream hybrid cars, with and without plug-in capability. They must also compete with conventional gasoline and diesel cars that are becoming more efficient every year, reducing EVs' advantages in operating costs and lifecycle environmental impacts. Given all that, there's still ample time for another technology like FCVs–or natural gas vehicles (NGVs)–to scale up, if they can reduce costs quickly enough and overcome infrastructure hurdles. Those are big ifs.
Nor is it the case that EVs and FCVs are mutually exclusive in the automotive market. Fuel cell cars are fundamentally electric vehicles, too, and most will likely be offered as hybrids, with regenerative braking and traction batteries. So advances in EV architecture, battery capacity and cost, and safety also benefit FCVs. That makes it seem even likelier that our future vehicle mix will be quite diverse, with EVs and FCVs coexisting with NGVs, various hybrids, and much more efficient gasoline and diesel models than today's.
---
April 11, 2014
(view original article)

Hydrogen fuel cells take the spotlight in Pakistan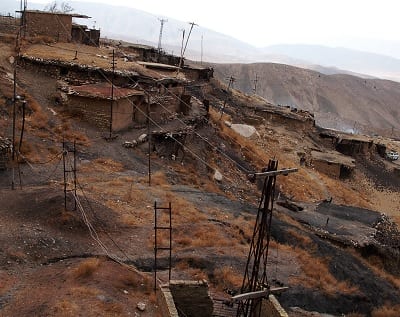 Country to use fuel cells to combat ongoing energy crisis

Hydrogen Fuel - Energy Crisis PakistanPakistan is currently facing an energy crisis that has affected much of the country. High demand for electrical power has strained the country's energy grid, which has struggled to provide people with the energy they need for some time. As the crisis increases in severity, the government is beginning to take steps to resolve the issue. In the coming months, a national organization focused on the deployment of hydrogen fuel cells will be established in order to combat the energy crisis.

Government organization to be established to oversee the deployment of fuel cell energy systems

Government officials believe that fuel cells will have a sustainable and positive impact on Pakistan's economic development. These energy systems will be able to help overcome the country's current energy crisis with limited consequences to the environment. The national organization being established by the government is expected to deploy a large range of fuel cells throughout the country. These energy systems will be used in grocery stores, commercial buildings, and even homes.

Pakistan intends to transition to a hydrogen economy in the coming years

The hydrogen used to power these fuel cells will be produced through the use of fossil-fuels, biomass, and renewable energy. The national organization that will be managing fuel cell deployment will represent Pakistan's eventual transition to a hydrogen economy. The concept of a hydrogen economy is somewhat simple. Today, much of the global economy is hinged on fossil-fuels, but in a hydrogen economy, fossil-fuels play a minor role, being replaced by hydrogen and hydrogen-based energy systems and technologies.

Fuel cells could power the future of the country's transportation sector

Pakistan is also working to promote clean transportation among its populace. Fuel cells have become one of the more popular renewable energy systems in the global auto industry and many automakers have plans to launch hydrogen-powered vehicles in the coming years. Fuel cells are particularly attractive when it comes to public transportation, as they can significantly cut the costs associated with keeping public transit vehicles fueled due to the growing costs of oil.
---
April 14, 2014
(view original article)

HFCV (Hydrogen Fuel-Cell Vehicles) Hot Overnight: SAIC Wants to Terminate Electronic Car
On 4 March, Hydrogen fuel bellwether company PLUG announces that the company has merged ReliOn, which is hydrogen fuel cell technology and system development company which head office is located on Washington DC.

6 days ago, SAIC has signed joint declaration with Volkswagen in German that both sides decide to cooperate onto fuel cell technology. Two mega automobile companies of Japan, Toyota and Honda, announce to open another battlefield: introduce its fuel cell cars into market, and each mode has 1 thousand sales goals.

Hydrogen fuel cell has come back to public overnight.

SAIC is the real automobile manufacture hydrogen fuel cell researcher in China. "Hydrogen fuel cell is the ultimate fuel of cars." GAN Pin, general manager of SAIC new energy and technology management thinks hydrogen fuel cell is able to solve the problem of too heavy weight and not stable quality of pure electronic cars. With the hydrogen source problem is solved, hydrogen fuel cell will replace pure electronic car finally.

"Hybrid power is the short term goal, and pure electronic car is the middle term goal. But finally chasing about hydrogen fuel cell." SAIC has its new energy car plan in "Twelfth Five Year Plan."

GAN Pin says with one speech that Tesla has its advantages, but far from revolution. Tesla brings some fresh air for automobile industry, such as design thinking, car construction, marketing etc. However, Tesla has not fixed the bottle neck for electronic car.

"It has acceptable drive range, but satisfies safety and economy for it. Tesla enlarges its battery to improve drive range. The car adopts cobalt nickel aluminum lithium ion batteries, but not lithium iron phosphate battery as Chinese companies do. More than 7 thousand batteries take more than 500 kg, and the entire car weighs as much as 2.1 t."
---
April 14, 2014
(view original article)

Hydrogen-fueled Toyota FCV sedan to enter market on limited basis for 2015 model year
Introduced at 2014 Consumer Electronics Show (CES) in Las Vegas earlier this year, Toyota introduced its FCV fuel cell concept that they are planning to launch as a production model for the 2015 model year.
"We aren't trying to re-invent the wheel; just everything necessary to make them turn," said Bob Carter, senior vice president of automotive operations for Toyota Motor Sales at the opening of CES, the world's largest trade show. "Fuel cell electric vehicles will be in our future sooner than many people believe, and in much greater numbers than anyone expected."
Two vehicles shared the stage at the Toyota press conference: The FCV concept, showing what the four-door mid-size sedan will look like in Radiant Blue; and the camouflage-taped engineering prototype used for extensive and extreme on-road testing in North America for more than a year. The prototype has consistently delivered a driving range of about 300 miles, zero-to-sixty acceleration of about 10 seconds, with no emissions, other than water vapor. Refueling of its hydrogen tanks takes three to five minutes.
"Hydrogen works beautifully with oxygen to create water and electricity and nothing more," Carter said. "For years, the use of hydrogen gas to power an electric vehicle has been seen by many smart people as a foolish quest. Yes, there are significant challenges. The first is building the vehicle at a reasonable price for many people. The second is doing what WE can to help kick-start the construction of convenient hydrogen refueling infrastructure. We're doing a good job with both and we will launch in 2015."
The FCV represents a major engineering achievement, where the size and weight of its powertrain system was significantly reduced while maintaining an impressive total power output of more than 100kW. A fully-fueled vehicle will be capable of supplying enough energy to power a house for a week in an emergency. Engineers are currently looking to develop an external power supply device that could be used in this manner.
Focusing on California, where the vehicle will be launched initially, Toyota has partnered with the University of California Irvine's Advanced Power and Energy Program (APEP) to help map out potential locations for new hydrogen fueling stations.
The APEP spatial model considers a variety of data including R.L. Polk ownership of hybrid and electric vehicles, traffic patterns, population density, and so on. The model is based on the assumption that owners want to reach a refueling station within six minutes.
What the model produced was an initial cluster map that requires only 68 station sites in the San Francisco Bay area and Silicon Valley, as well as Los Angeles, Orange and San Diego counties. If implemented, the mapped system could handle a fuel cell population conservatively estimated by APEP at about 10,000 vehicles.
Since 2002, Toyota has been testing and developing a series of prototypes in North America. In those 11 years — and more than a million miles – it has dramatically reduced the cost of building a fuel cell powertrain. In fact, Toyota estimates a 95-percent cost reduction in the powertrain and fuel tanks of the vehicle it will launch in 2015, compared to what it cost to build the original prototype in 2002.
---
---